Rapid Prototyping and MET Senior Projects Laboratory
This facility serves MET through courses ETME 2202 and ETME3233 by allowing students to rapid prototype selected assignments created using Solidworks. In addition, this lab supports the design verification and/or prototyping needs of the Senior Design Program and other special student projects.
Two Stratysis/Dimension rapid prototyping machines are available offering both "breakaway" support and "soluble" support structures, with full support for modeling in natural as well as various colors of materials and a cleaning station for models created with soluble support.
Rapid prototyping Machines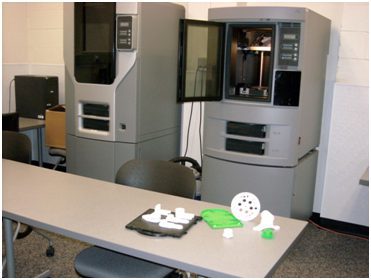 Close-up of a Rapid Prototyping Machine