Machine Shop Practices Laboratory
This laboratory serves ETME 2156L – Machine Shop Practices Laboratory and all Senior Design Courses (ETME 3232/3242 and ETGR4100/4200). With an area of approximately 1700 ft2 the Machine Shop Laboratory houses all of the machine tools, sheet metal fabrication equipment, and storage cabinets for smaller tooling and consumables. In addition, two separate light retardant curtain partitioned areas provide space for welding equipment which may be used concurrently. Power supplies and compressed air lines for all machine tools are via an overhead bus bar and/or plug molding around the periphery in order to keep work areas uncluttered and safe.
Typical Machining Equipment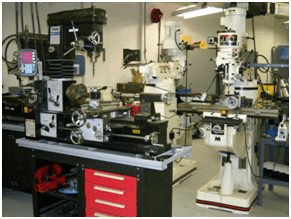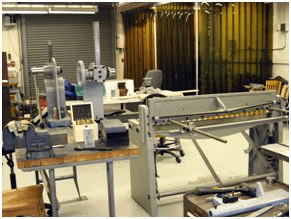 The Machine Shop Practices Laboratory provides hands-on experience with the basic machining techniques and types of equipment in manufacturing environments. This includes turning operations, drilling, boring, basic milling, off hand grinding, precision grinding, sheet metal shearing and bending, basic welding (MIG, TIG, Stick) and the use of layout and precision measuring tools common to machine shop environments. In addition, the lab is used extensively during late 1st semester and all of 2nd semester of the Senior Design courses as students transform their conceptual designs into functional prototypes. Major equipment available includes Smithy 3 in 1 Machines (lathe/mill/drill) with 2 axis digital readouts, Jet JTM-2 mills each with 2 axis digital readouts, Jet lathes with 2 axis digital readouts, Jet surface grinder, bench grinders, belt/disc sanders, horizontal and vertical band saws, shear, brake, and welding gear.