Computer Aided Drafting Design Laboratory
This laboratory is used for instruction in a variety of computer aided drafting and design (CAD) courses in the Mechanical and Civil Engineering Technology programs. The courses taught most frequently in this laboratory include ETGR1103 Technical Drawing I, ETGR1104 Technical Drawing II, ETME3233 Parametric Solid Modeling, ETME2102 Mechanisms, and ETCE1104 Civil/Construction CAD Applications. Complete renovation of the laboratory, including replacement of manual drafting tables with CAD stations, has occurred in the past five years.
The laboratory layout is comparable to that of a traditional classroom with several noticeable additions. A dry-erase whiteboard is positioned at the front of the classroom/lab for use in conjunction with traditional presentation methods. There are 32 desk units (plus one for the instructor) arranged in rows with a layout to promote student visibility for the front of the classroom.
The general layout of CAD Laboratory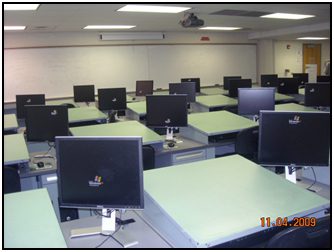 Each student desk unit is equipped with a drawing table which is 3 ft. x 2 ft. In addition, each desk has a personal computer workstation. The instructional station includes a projection system enabling the demonstration of CAD commands and techniques during the lecture period. Drafting tables are used for basic sketching and drafting while networked personal computers with various CAD package are used for the computer aided drafting and design.
Each workstation in the laboratory/classroom is connected to the College of Engineering network, which provides access to all software applications employed throughout the Engineering Technology department.
Close-up of a workstation