Occupational Safety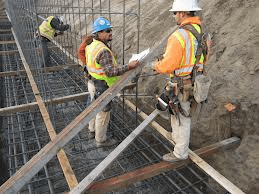 The UNC Charlotte Occupational Safety Concentration prepares students for a variety of careers in the health and safety field, where a broad background in the physical and life sciences and a foundation in fire science are essential. Coursework, experiential learning, quantitative analysis, and computer skills are heavily emphasized throughout the program, and a capstone experience (internship, co-op, or a supervised directed project) is required so that graduates are prepared for work as an entry level EHS/Occupational Safety professional.
Some of the career options for graduates include:
Construction Safety Managers
University/Academic Environmental Health and Safety (EHS) Officers
Government Occupational Safety and Health Professionals
Industrial Plant Safety Coordinators
OSHA Compliance Officers
EHS Professionals protecting military service branches
Environmental/Analytical Service Technicians
Laboratory Safety Professionals
And many others!
According to the Bureau of Labor Statistics, the median salary for Occupational Safety and Health Professionals is $69,370 ($33/hour), with the demand for workers in this field only expected to grow in the next 5-10 years.
The Occupational Safety program at UNC Charlotte is one of a few programs in the Southeastern United States that offers a curriculum that prepare students to join workforce market as an Occupational Safety Professional. The courses offered in the occupational safety program focus on core competencies across nine knowledge and skill domains designated by the Board of Certified Safety Professionals as preparation for the ASP10 Exam.
Graduation Requirements (based on the 2019-2020 Catalog)
Occupational Safety Academic Plan (4-Year Plan of Study and 2+2 Transfer Plan)
Students in Occupational Safety must complete total of 120 credits for their bachelor degree which includes 18 credits in General Education (Writing, Social Science, Liberal Arts), 25 credits of Mathematics/Science (Precalculus, Calculus, Statistics, Biology, Chemistry, Physics), 21 credits of general engineering technology courses, and 56 credits in occupational safety and fire safety courses (Major).
Core courses
CMET 1680 – Construction Safety
ETGR 2230 – Occupational Safety
ETFS 2264 – Fire Behavior
ETFS 3113 – Fire Dynamics
ETFS 3123 – Industrial Hazards & Electricity
ETFS 3124 – Risk Management
ETFS 3144 – Active Fire Protection
ETFS 3150 – Adult Learning Theory in Safety
ETFS 4123 – Community Threat Assessment & Mitigation
ETGR 4301 – Environmental Pollution Control
ETGR 4302 – Industrial Hygiene
ETGR 4303 – Applied Ergonomics & Human Factors
ETGR 4305 – System Safety Design & Management
Facilities/Equipment
The program coordinates equipment usage with the UNC Charlotte Environmental Health and Safety Office in order to provide students experience using equipment and tools that entry level EHS professionals commonly use. Lab topics incorporated into coursework include Indoor Air Quality investigations, personal sampling methods for gases and particulates (integrated and real-time monitors), radiation survey methods, noise surveys and hearing conservation, respirator fit testing, anthropometry, office ergonomic evaluations, manual material handling ergonomic evaluations, and ventilation measurements.
American Society of Safety Professionals (ASSP), UNC Charlotte Student Chapter
The program has an active student chapter that provides opportunities for student to engage in activities related to Occupational Safety in coordination with the ASSP Tarheel Chapter in Charlotte. Students are encouraged to register as members upon their start in freshmen year. You can also follow UNCC ASSP student chapter on Twitter and LinkedIn.